---
- Restaurant -
---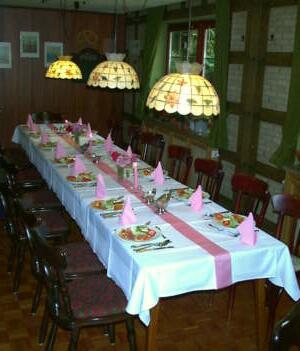 Our restaurant is located on the ground floor. It is open from 17:00 to 24:00 daily, except Thursdays. In addition to our regular country cuisine, we often feature regional and seasonal specialties.
Our spacious rooms can be used for family or company celebrations. We can serve up to 90 people. We are eager to advise you and make preparations for your festivities, so that your event is a complete success.
If you would like to submit an inquiry, just download this Form to your computer, fill it out and fax it to us at +49 (0)5562-8783. Of course you can also make an inquiry by just calling us at +49 (0)5562-8787.
---
Gremmel's Gasthaus / Sollingstrasse 12 / D-37586 Dassel-Lauenberg
Phone: +49 (0)5562 - 8787 / FAX: +49(0)5562 - 8783

---